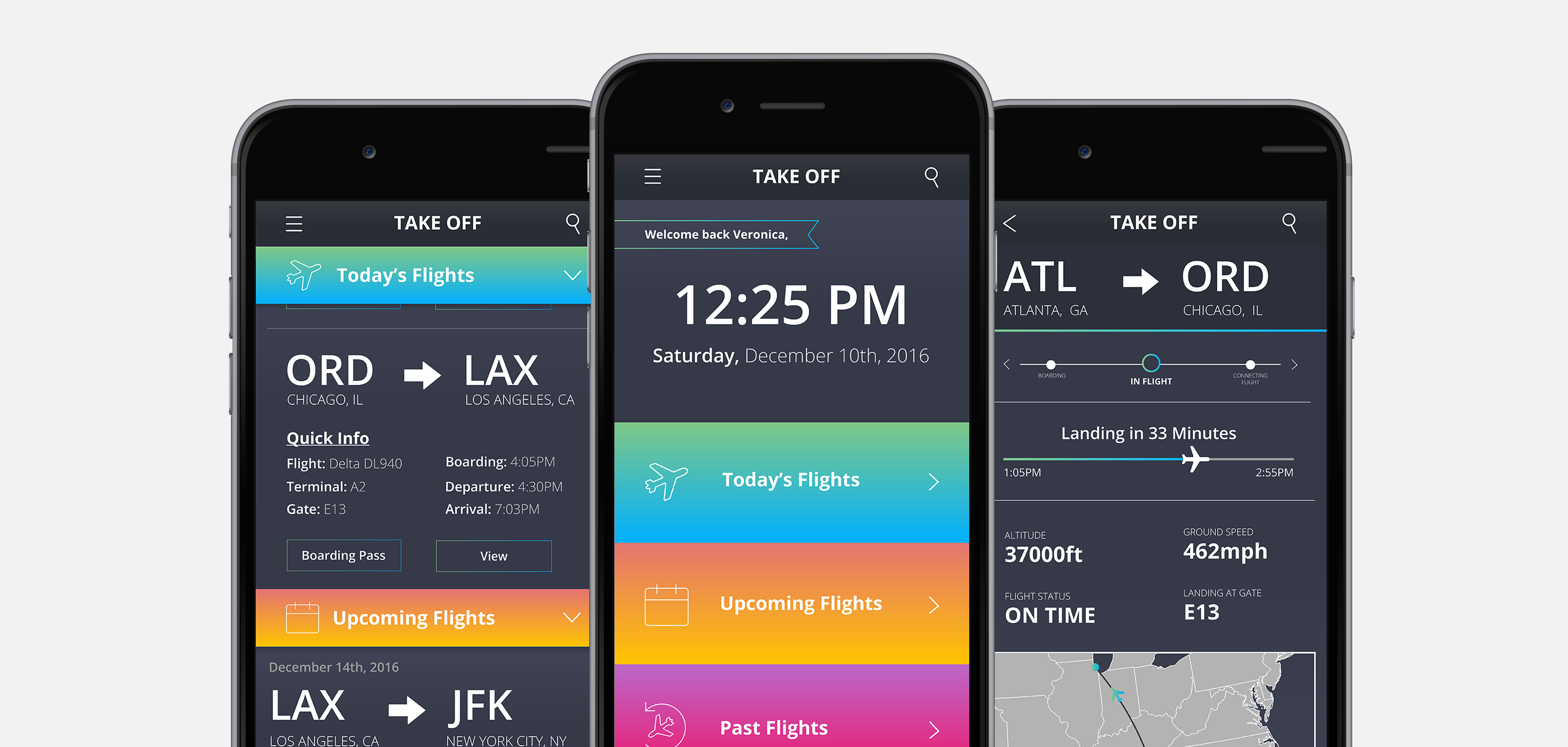 Flying is often a
stressful experience
. A major part of that problem is that it's
hard to get up to date information
about your flight or even about the airport itself. 
My goal is to create an app that puts a focus on its users by giving them 
what they need, when they need it
at every step of the 

flying process. 
Competitive Analysis: FlightTrader24
A third party apps
that's more on the 
gimmicky
 side. It's 
$3.99 to purchase
and you have to
pay extra for important features
like getting flight status alerts on your phone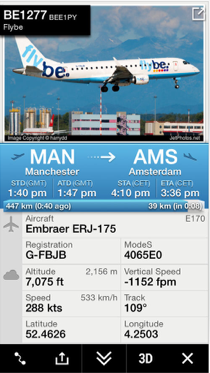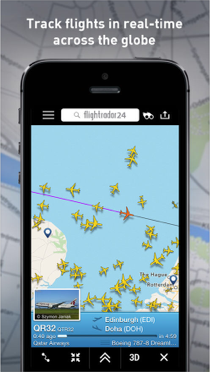 Competitive Analysis: JetBlue
This is a free app with a matching Apple Watch app. Its use extends beyond flight information into booking flights and planning trips which adds a lot of
extra complexity and clutter
. Big airlines have the money to do better designs but are only 
useful if you only fly with one airline
.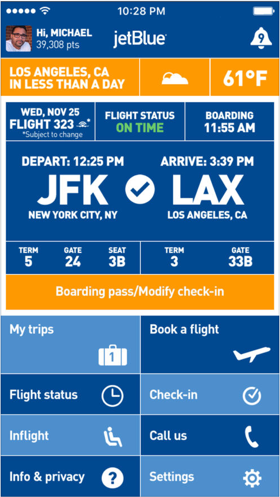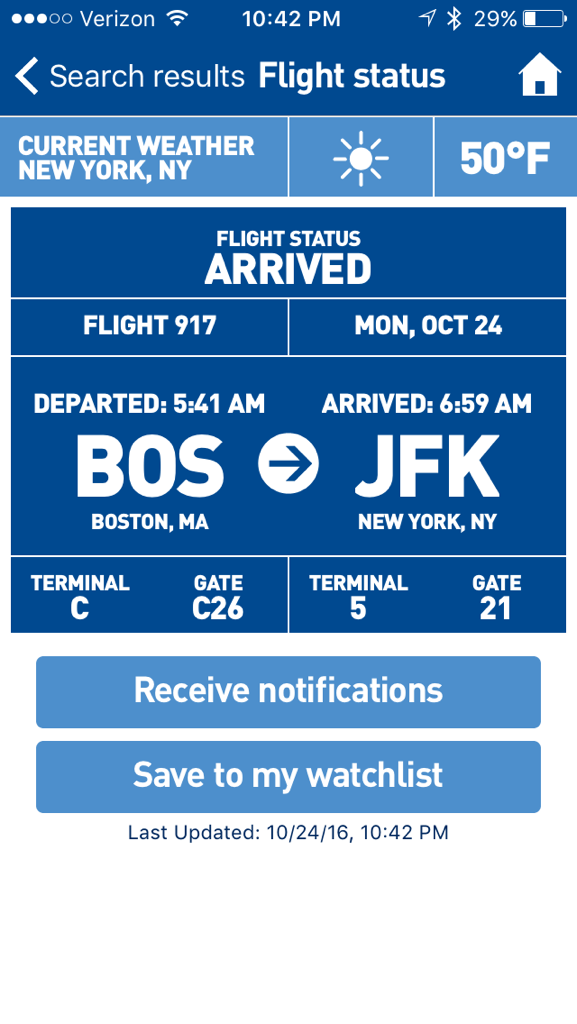 Take Off targets people who are flying, especially those who have to
split their attention
. This could be because they are running late or are flying in a large group or with children. The app is also
beneficial for those who are disabled
.
I thought a lot about what the user would need during the flying process. I wanted to make the pages as
user friendly
as possible and give users 
exactly what they needed
at every step of flying.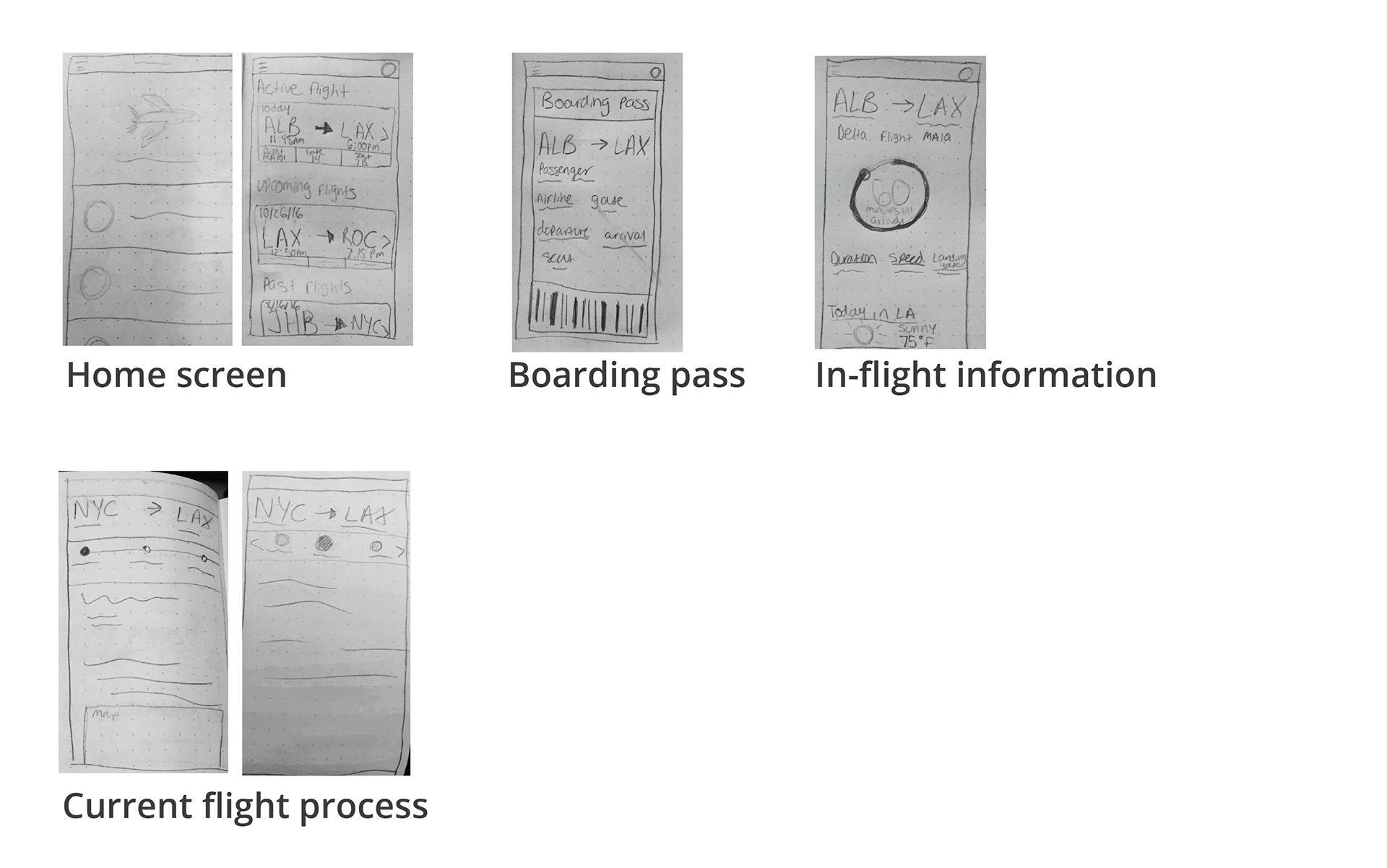 I wanted the majority of the pages to be under the section for todays flights, breaking down the process into its
most simple steps
. Notifications were also a big part of the the app in order to
alert the user with critical information
.
Mood Board: Dark and Eye Catching
This direction provides a
dark and engaging
 sense for the user. It uses darker colors with accents of brighter colors. These colors will
draw the attention of the user
to important bits of information and
adds visual interest
to the design.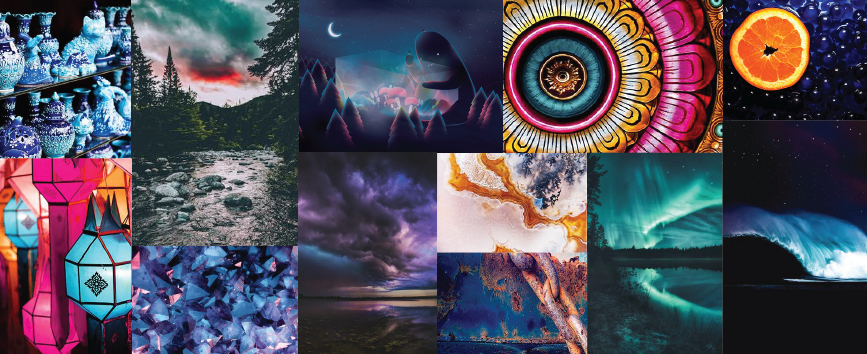 The initial page of the app where the user can find information about
current, past or future flights
.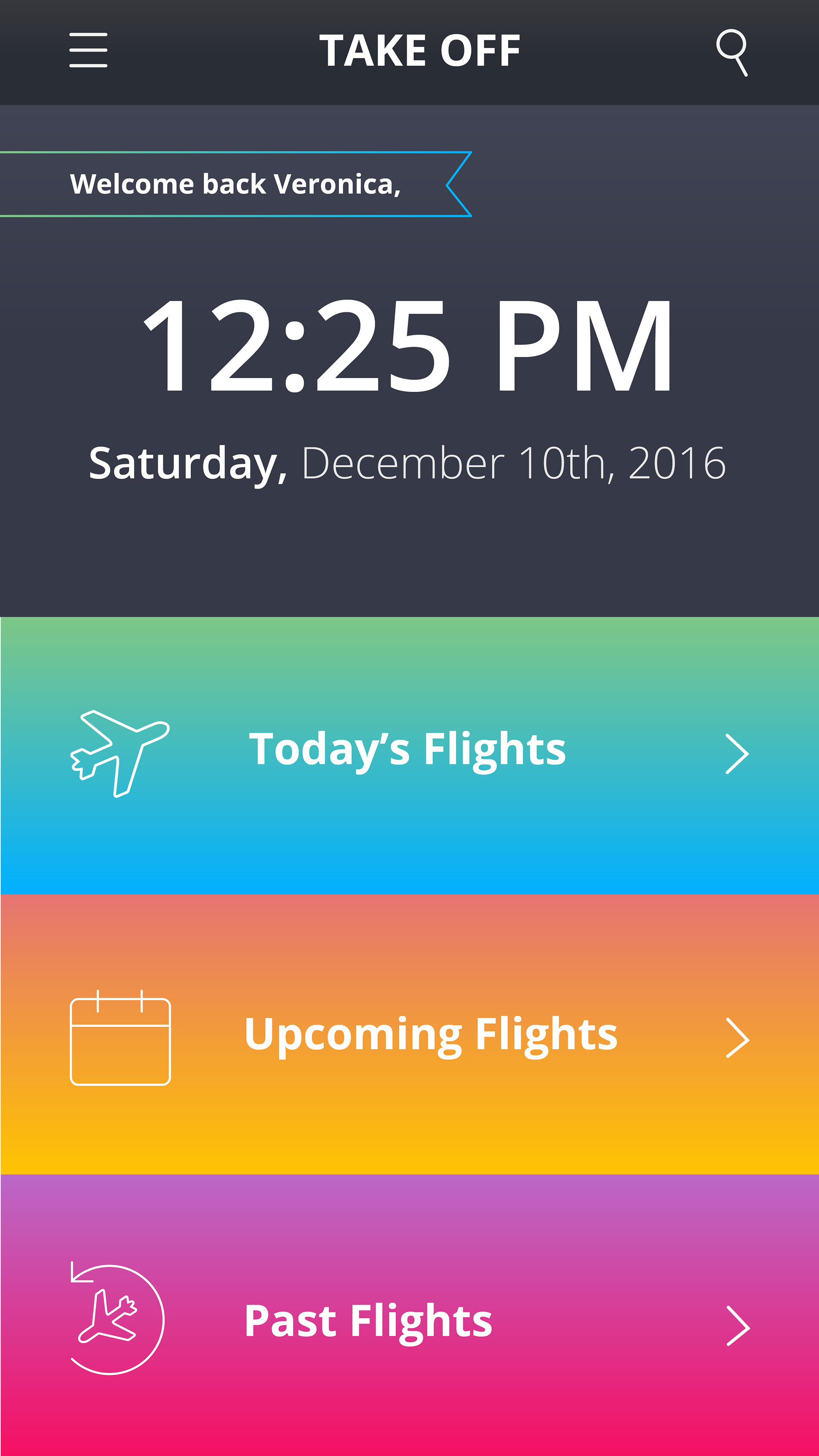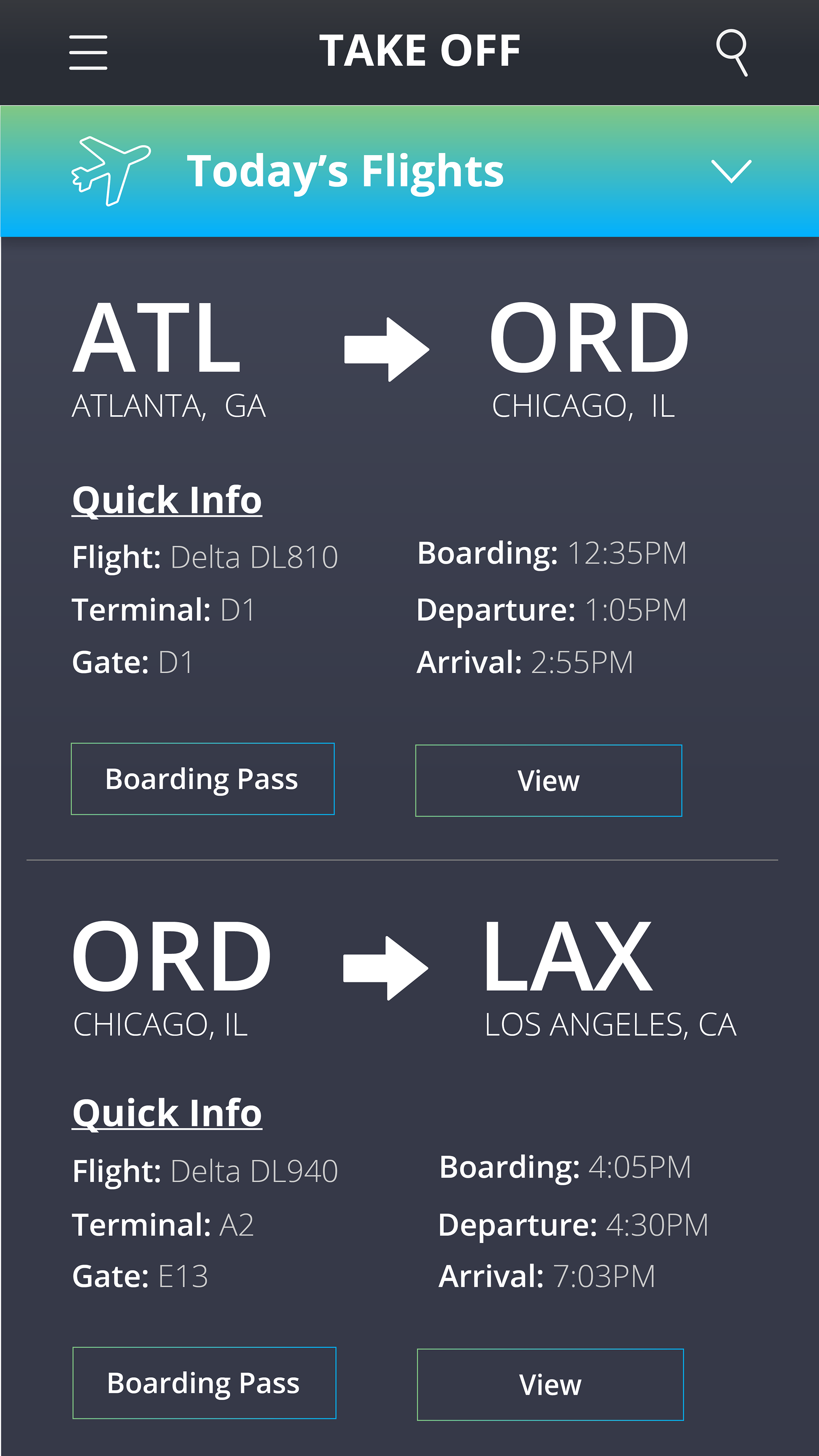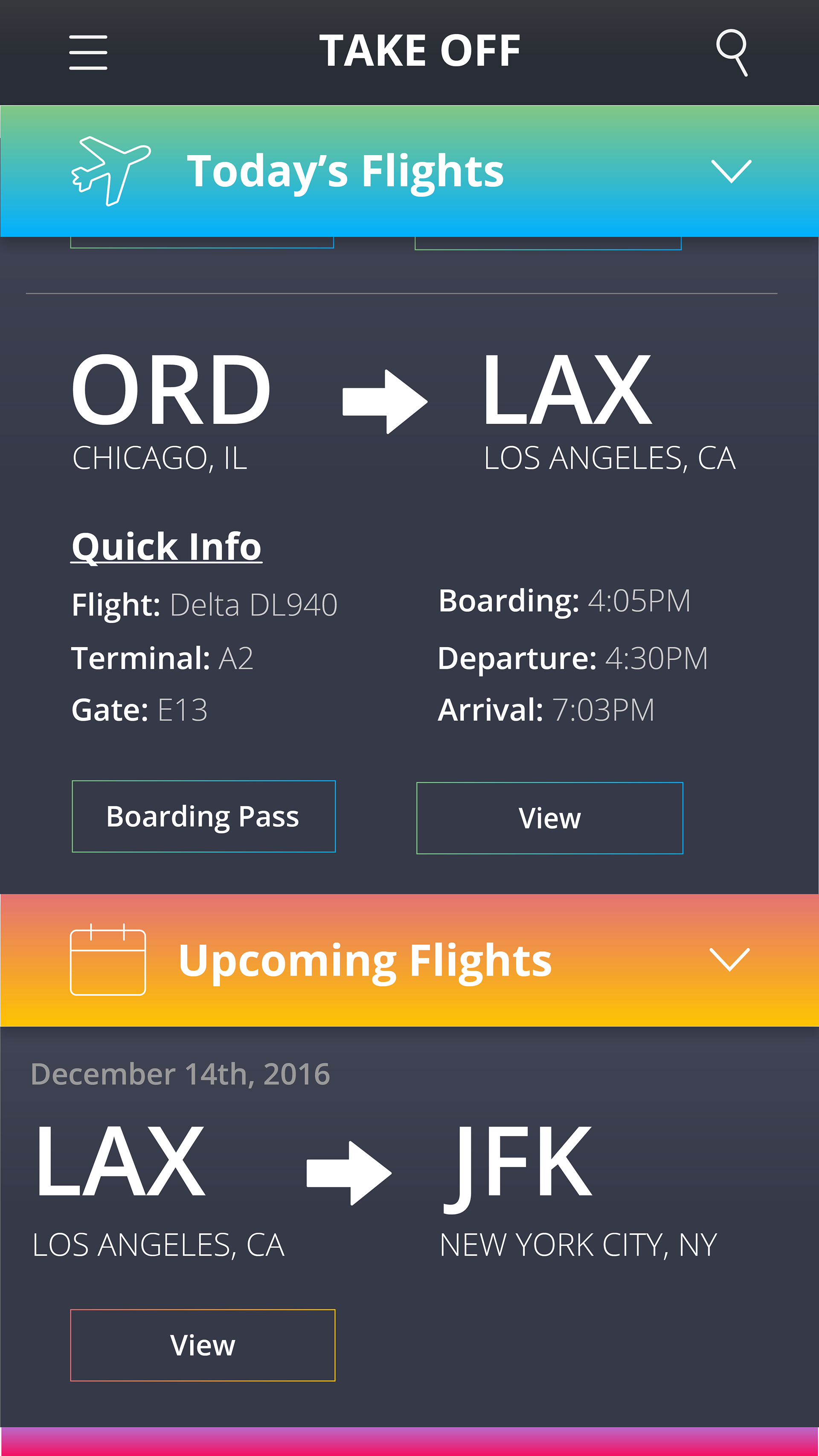 Final Designs: Boarding Pass
Notification that the user's flight is boarding. They can then
get their boarding pass scanned
or see flight details.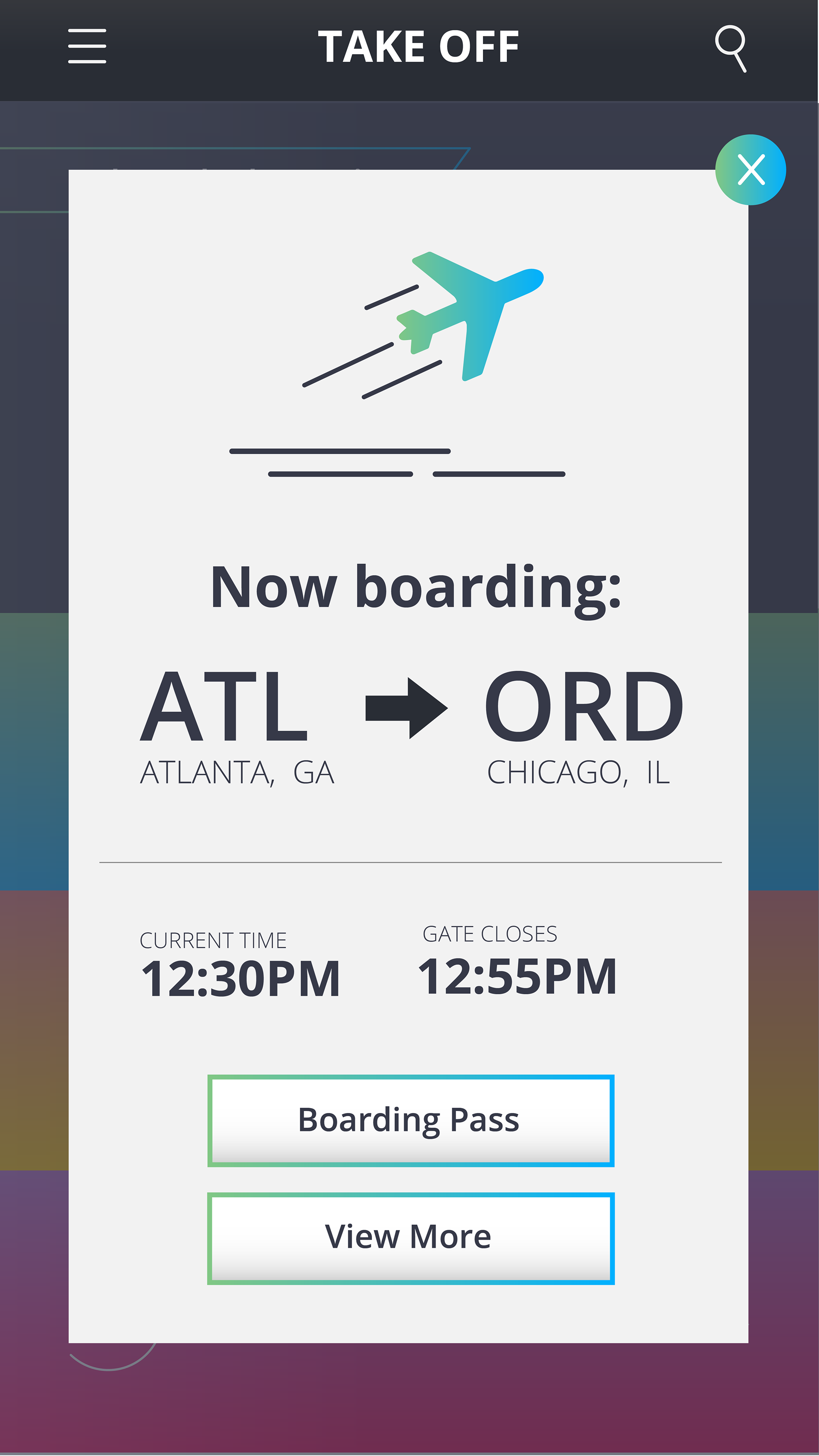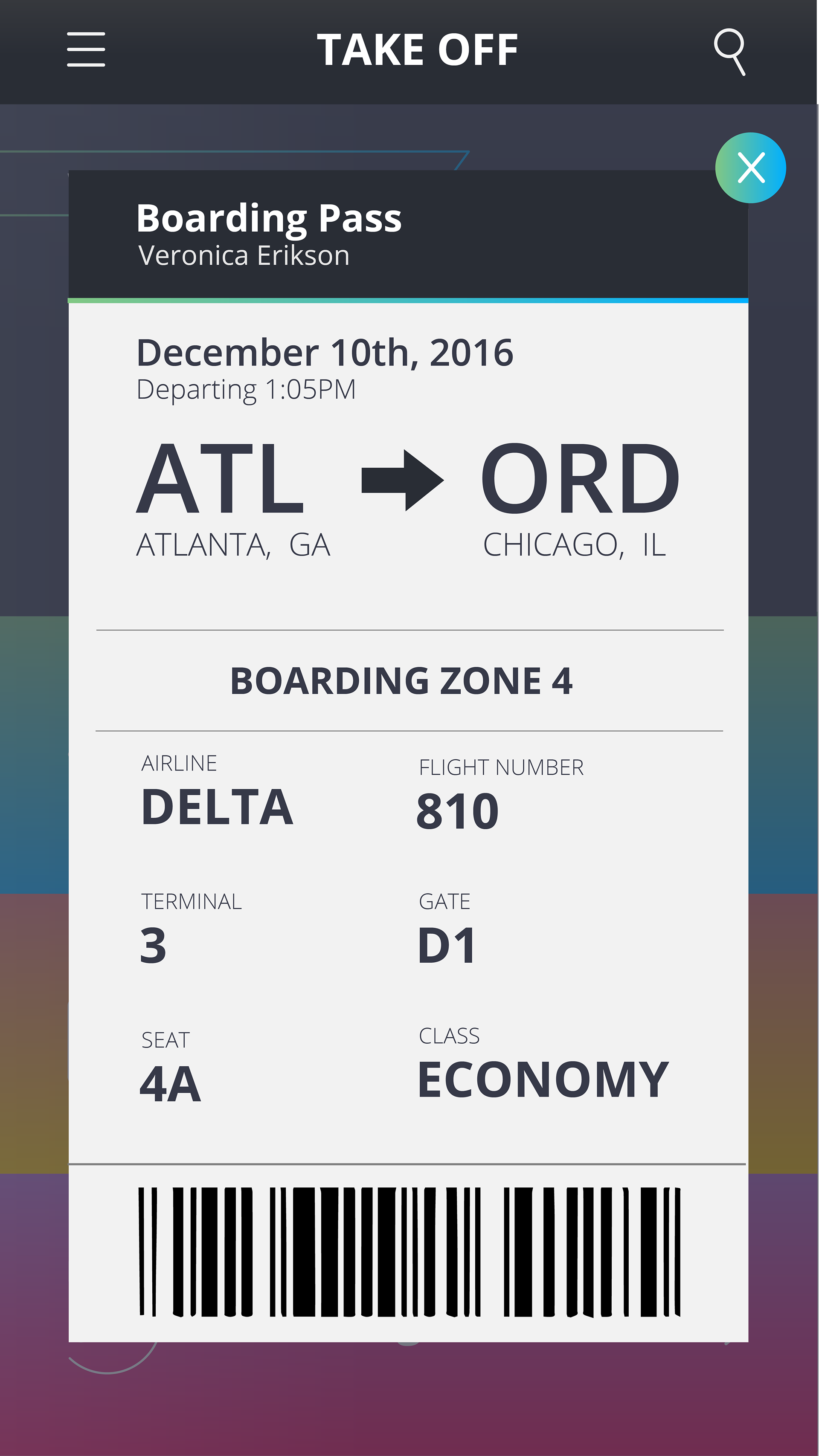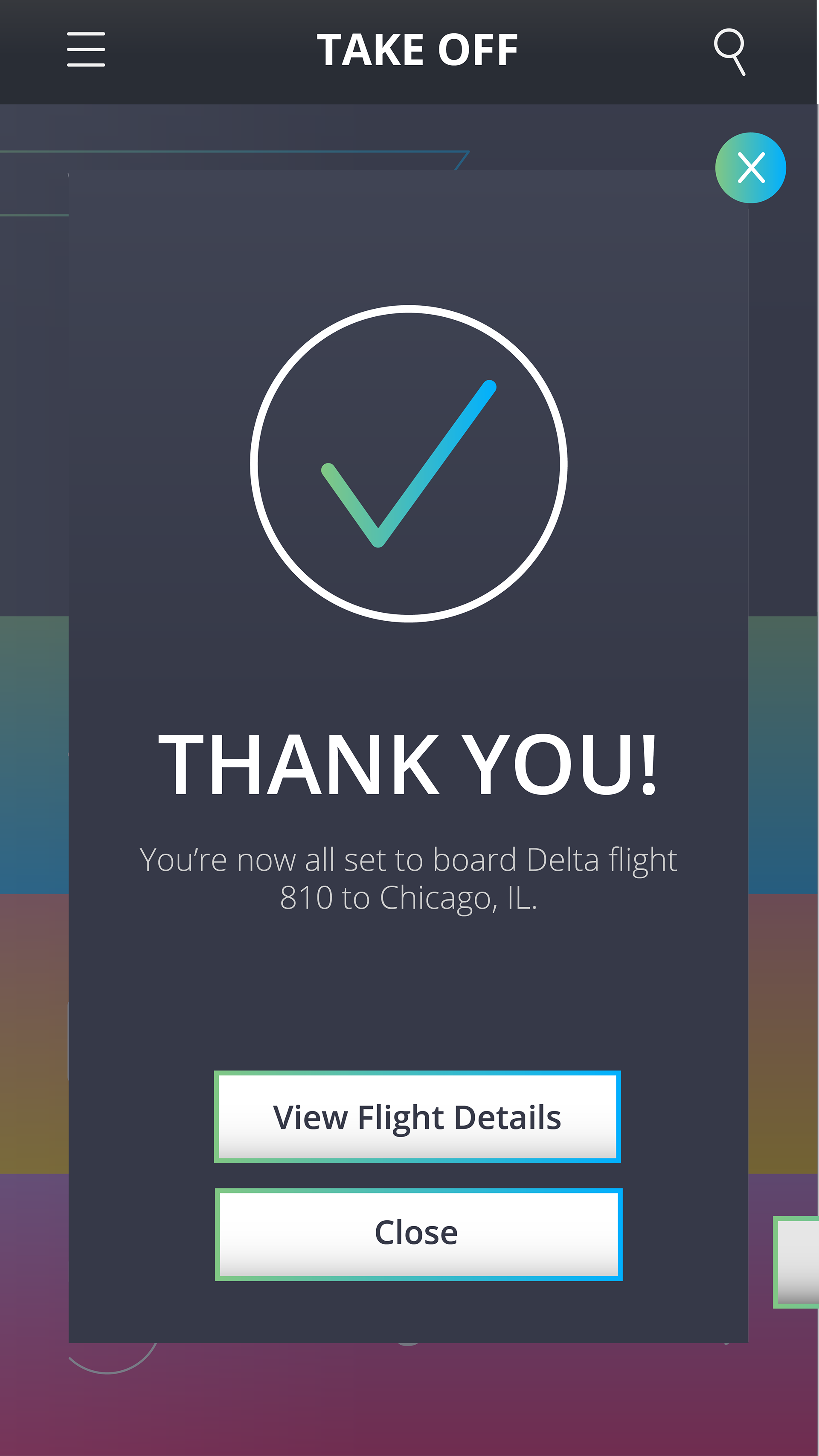 Final Designs: In-Flight Use
Notification that the user's airline provides use of Take Off on the flight. They can then see information about the flight or
turn on airplane mode
.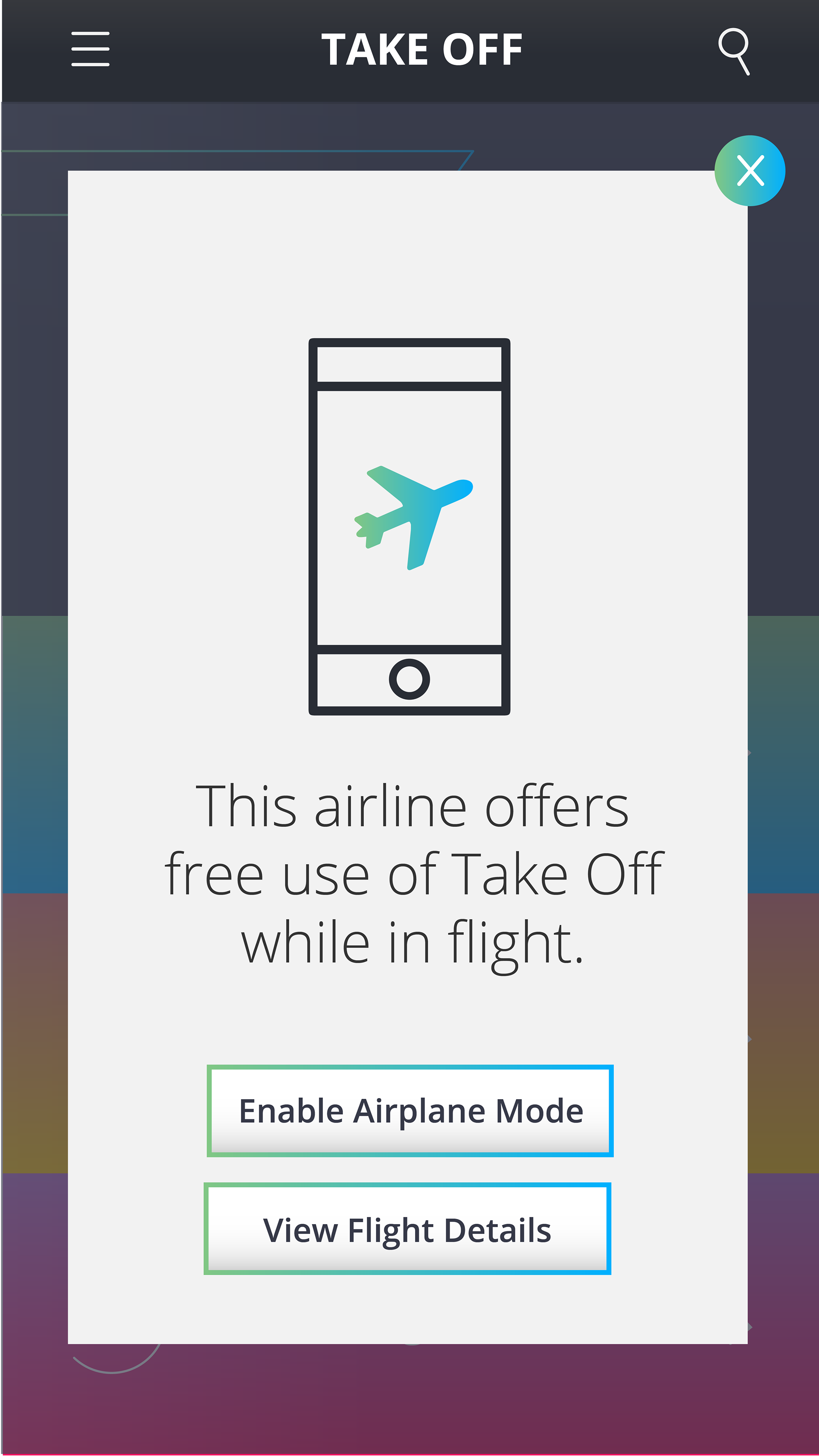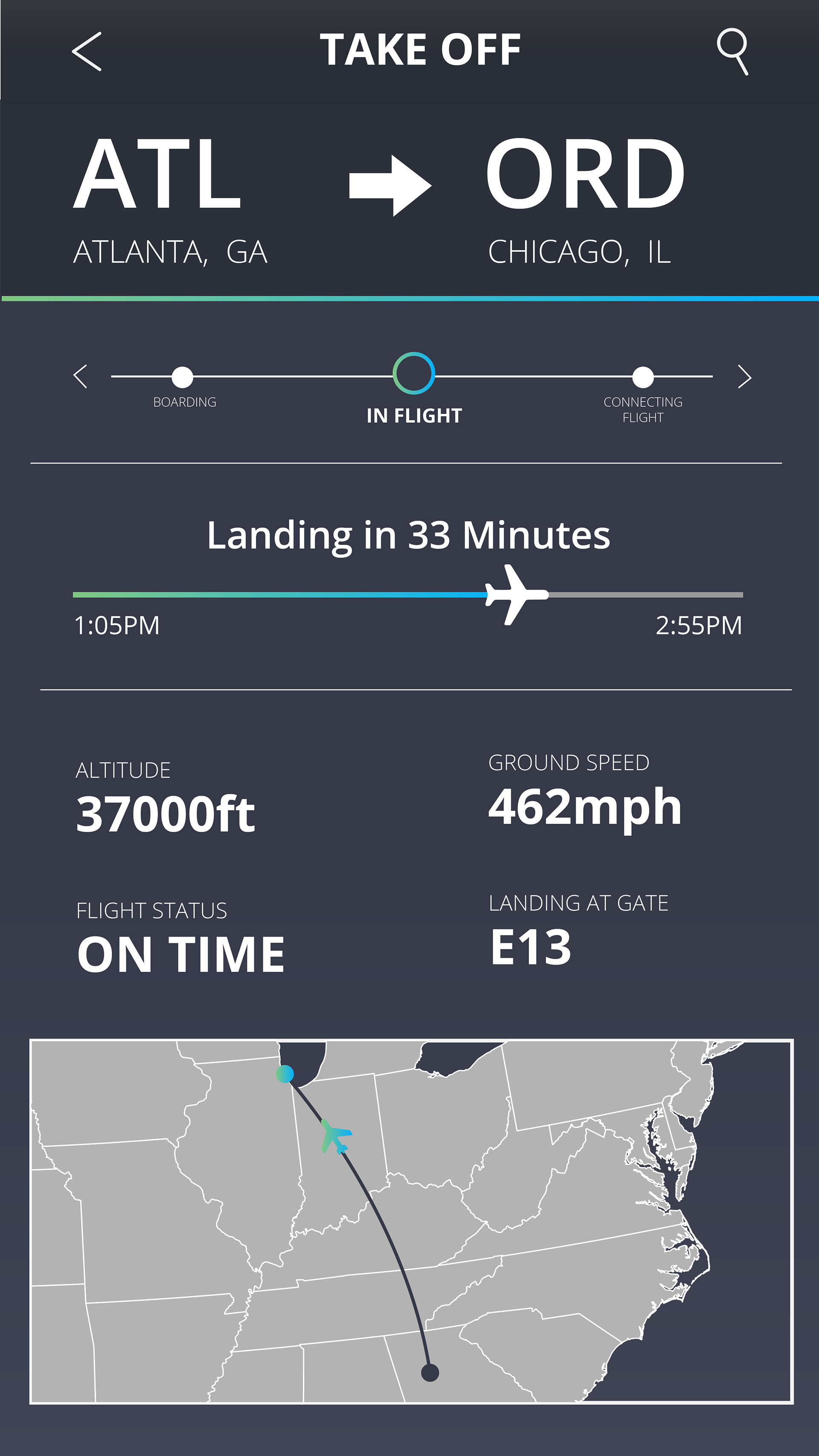 Final Design: Airport Information
View of the side menu and information the user would see if they were taking a connecting flight somewhere. They have the option to
find restaurants shops and bathrooms
around them.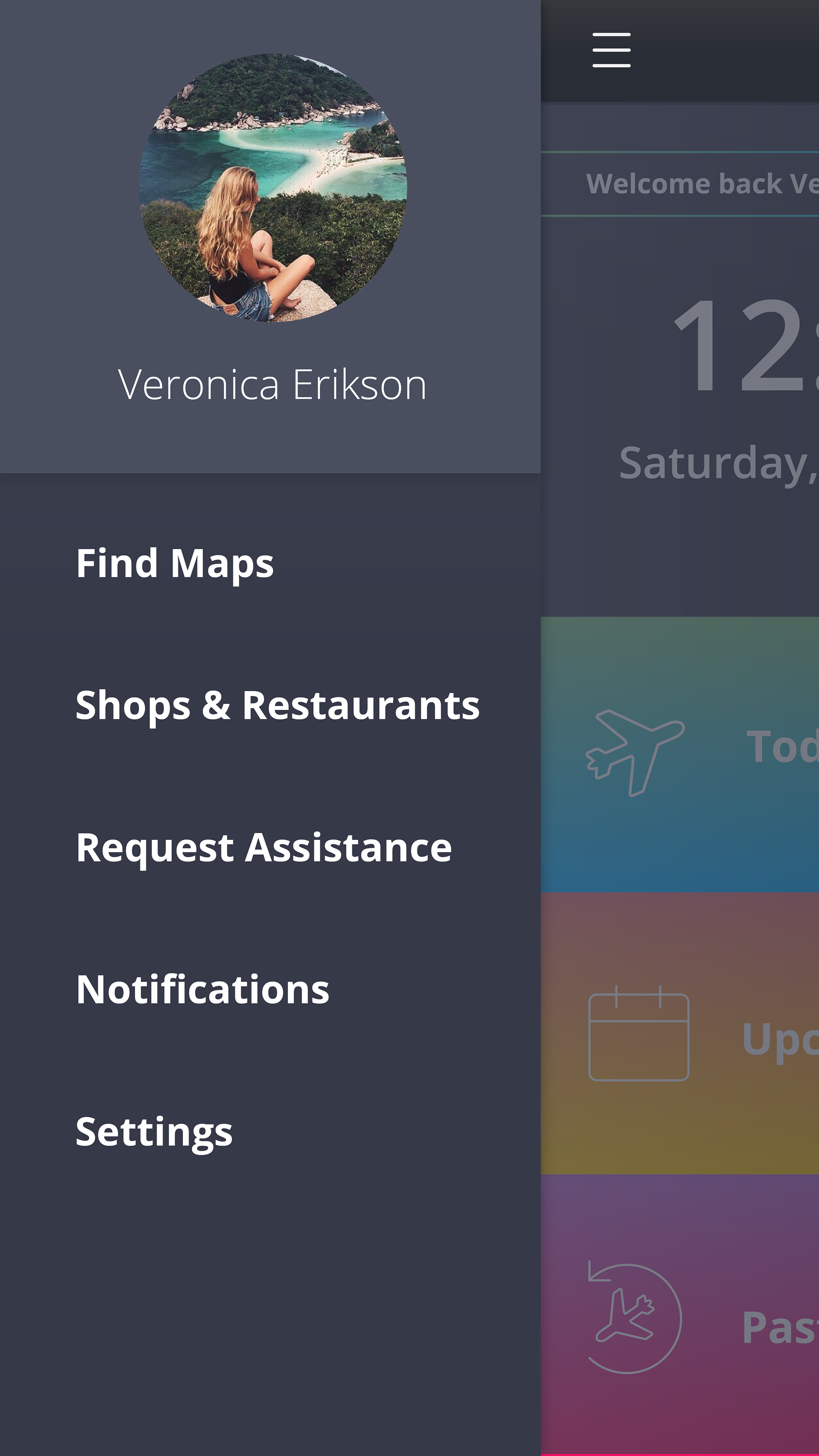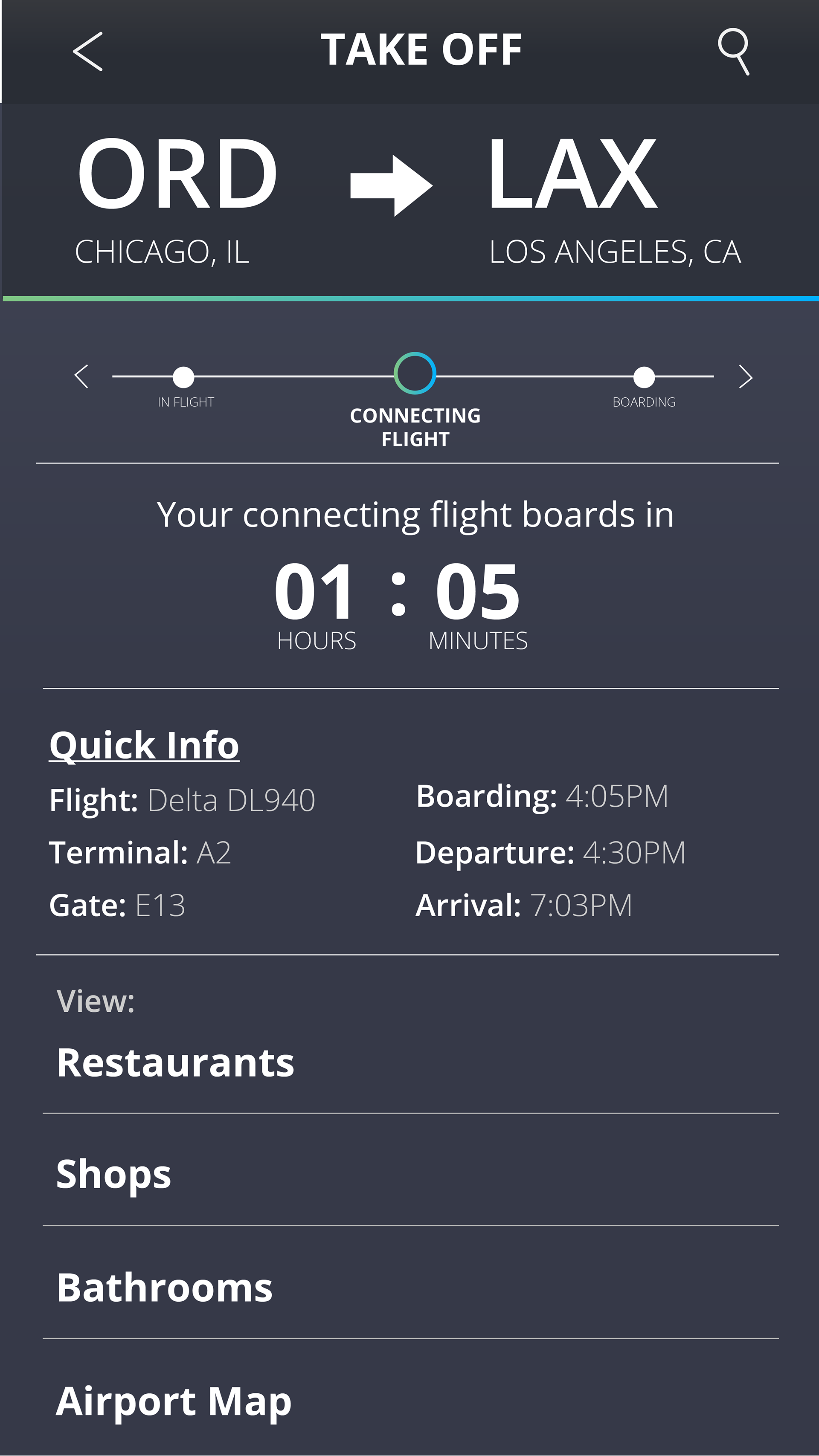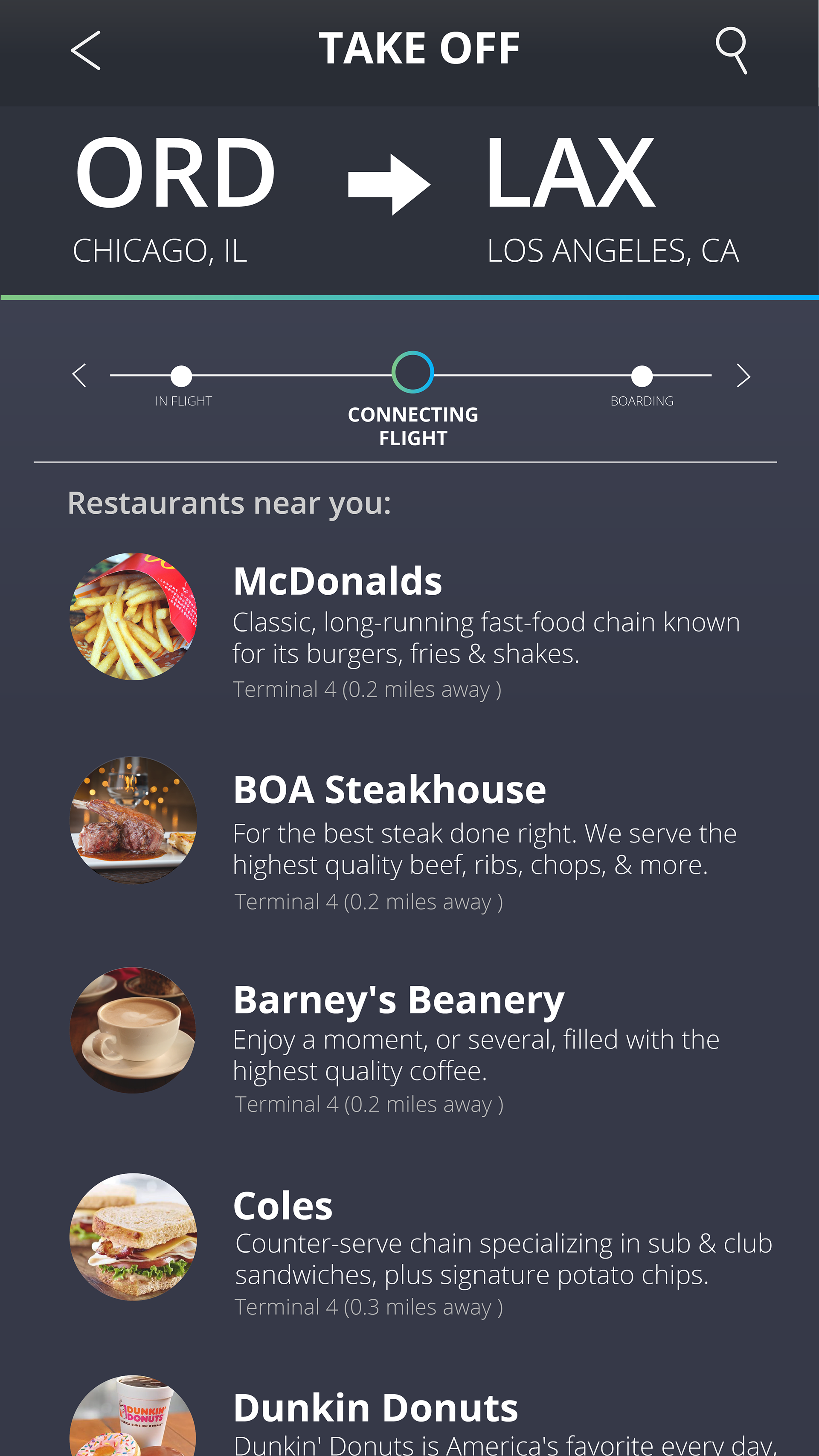 Interaction Design: Main Menu
Expand the main menu to
check the information for your flights
for the day as well as past and future flights.
Interaction Design: Boarding Pass
The user gets a notification with their boarding pass when its time for them to board. They also get a
visual confirmation
to let them know they're checked in correctly.
Interaction Design: In-Flight Use
Before take off the user gets a notification with a 
convenient button to switch to airplane mode
.  They can also view flight details while in the sky.
Interaction Design: Airport Information
Quickly
get important information when every minute counts
between flights like restaurant and bathroom locations in the area around you.
Interaction Design: Side Menu
Find other important tools and information
tucked away
in the side menu.